Skip Main Content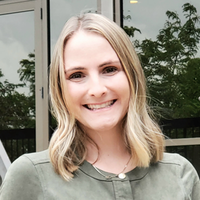 Dr. Rachel Watson
ROLE:
Certified Audiologist
Meet Dr. Rachel Watson
Dr. Rachel Watson earned her Bachelor of Science in 2013 and Doctor of Audiology in 2017 from West Virginia University. She is a fellow of the American Academy of Audiology and holds a certificate of Clinical Competency from the American Speech-Language-Hearing Assocation. She is skilled in a full array of diagnostic testing for hearing and balance disorders but has a special interest in digital amplification and other modes of assistive listening technologies. Dr. Watson joined Francis Audiology in 2022. She is passionate about the field of audiology and helping her patients achieve an improved quality of life through better hearing.
Education
Doctor of Audiology

2017

Bachelor of Science in Speech Pathology and Audiology

2013
Board Certifications
Fellow

American Academy of Audiology

Certificate of Clinical Competency

American Speech-Language-Hearing Association
Publications
Donai, J.J., & Halbritter, R.M. (2017). Gender identification using high-frequency speech energy: Effects of increasing the low-frequency limit. Ear & Hearing 38:
Thank you for subscribing!
You will receive important news and updates from our practice directly to your inbox.
Thanks!