Skip Main Content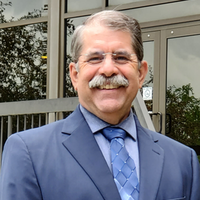 Dr. R. Patrick Francis
ROLE:
Certified Audiologist
Meet Dr. R. Patrick Francis
Dr. R. Patrick Francis is a Certified Audiologist. His training began at West Virginia University where he earned both his Bachelors and Masters Degrees. His first position was with the West Virginia public school system as an educational audiologist. He soon gravitated toward the medical aspects of audiology and spent the next 20 years working with physicians and hospitals. In 1988 he moved to Pittsburgh and worked as the Director of Audiology for a prominent Ear Nose and Throat physician practice. He returned to school and earned his Doctorate degree in audiology in 2002 from Salus University. In 2006, Dr. Francis opened his own practice focusing on rehabilitative audiology. He emphasizes patient education at his practice including family members, significant others or anyone the patient wishes to include in their pursuit of better hearing. He believes that patient education is the key to successful outcomes and it allows the patient to make educated decisions about their own hearing healthcare. Dr. Francis has enjoyed raising his three daughters along with his wife Karen in both Shaler and Cranberry Townships. Now that his daughters have grown, Dr. Francis devotes more time to serving his community as a past president of the Cranberry Township Sunrise Rotary, served 6 years on The Crossings Homeowners Association and on the board of Missions Outreach Group at Saint Ferdinand Parish. When time allows, Dr. Francis and his wife enjoy hiking, kayaking and traveling.
Education
Salus University

Doctorate in Clinical Audiology

2000 - 2002

West Virginia University, College of Human Resources and Education

Master of Science,

Audiology

1984 - 1986

West Virginia University, College of Human Resources and Education

Bachelor of Science,

Speech Pathology and Audiology

1980 - 1984
Training
Full-time Audiology Trainee

Veterans Administration Medical Center, Martinsburg, WV

1985 - 1985
Work Experiences
Private Practice

Francis Audiology Associates, LLC

2006 - Present

Director of Audiology

Metropolitan ENT Associates

1988 - 2006

Audiologist

EENT Physicians & Surgeons of Charleston Inc.

1987 - 1988

Educational Audiologist

Regional Educational Service Agency, Region IV, (RESA IV)

1986 - 1988

Part-time Audiology Technician

Morgantown Ear, Nose & Throat Clinic, Inc.

1986 - 1986
Board Certifications
Certificate of Clinical Competency in Audiology

American Speech-Language-Hearing Association

1984

Licensed Audiologist in Pennsylvania

1988
Professional Affiliations
Fellow

American Academy of Audiology
Awards
President

2013

Community Choice Gold Awards for Audiologist and Hearing Aid Center

2014

Cranberry Cup "Spirit of the Cup Award"

2013

Board Member

The Crossings Homeowner's Board

2012

Rotarian of the Year

2011

Traineeship Scholarship

Veterans Administration Medical Center

1985

Student-Faculty Representative Undergraduate

1984
Thank you for subscribing!
You will receive important news and updates from our practice directly to your inbox.
Thanks!